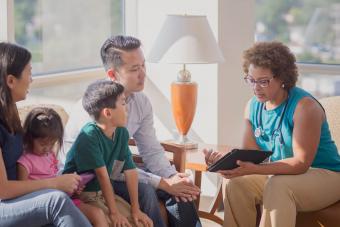 Trying to find the best medical doctor for your family can feel overwhelming. There are a number of things to consider, such as credentials, specializations and location. Moreover, the terms "general practitioner" and "family practitioner" might be hard to distinguish as you search for a provider. Learn the differences between the two and how a family practice can meet more of your needs.
General Practice Versus Family Practice
Before choosing any doctor, you want to inquire about what license to practice they hold, which can vary depending on the state, and their training background.
General Practice
A general practice doctor has the least number of training requirements compared to other types of doctors. After medical school, general practitioners are only required to do a one-year internship before they can get a license to practice.
A benefit of going to a general practitioner is that it opens up more possibilities from which to choose your doctor, particularly if you are single and not looking for a family practice in particular. However, the downside is that a general practice doctor has the least amount of training and experience.
General practice doctors are becoming a thing of the past due to additional medical training and insurance requirements. Dr. Kevin Gebke, a family and sports medicine physician from Indiana University Health, says the term "general practice" used to mean a physician who did not complete a residency in order to acquire a specific specialization.
Family Practice
Today, however, a vast majority of physicians complete a residency and become board-certified in a specialty, in addition to being licensed in their state. Therefore, considering general practitioners will probably not increase your number of options by a large amount.
The term "family practice" is now commonly referred to as "family medicine" and includes doctors certified in the specialty of treating families. In other words, they provide care in all areas for people of all ages. Dr. Gebke shares that he became a family physician because "it provided the best training to care for all people in the community."
To become a family practitioner, a doctor is required to complete a three-year residency after medical school that focuses on family medicine. You can find individual family physician practitioners as well as offices that house several family physicians in a joint practice.
Reasons for Choosing a Family Practice
Once you've determined a doctor is properly licensed and trained in family care, the choice "really comes down to relationships, access, and quality of care metrics," according to Dr. Gebke. It's a personal decision you and your family must make, but there are plenty of reasons to choose family medicine.
Broad Medical Training
Family physicians are trained to evaluate, diagnose, and treat a wide variety of health concerns for people of any age. This reduces the number of doctors your family would have to see on an out-patient basis. In addition to general medicine, family physicians can offer care in areas of sub-specialization such as pediatrics, sports medicine, pain medicine, obstetrics and geriatrics.
Furthermore, behavioral health has increasingly become a training focus for family practice, rounding out overall care and treatment. This includes the ability to diagnose, manage and coordinate care for mental illness and behavioral issues for patients of all ages. Examples of such issues are depression, anxiety, and impulse control problems. As a result, family physicians can determine the influence of biomedical factors on mental and behavioral problems, in addition to environmental influences.
Moreover, expectations for the number of competencies that family physicians should have continues to increase. A study with medical experts identified 76 competencies that family doctors should have, ranging from a child's common cold to nicotine addiction, to high blood pressure, to dementia. In addition, for geriatric care alone, medical experts identified 26 competencies that family practitioners should have.
Convenience and Longevity of Care
One of the biggest draws of a family medicine doctor is that all members of the family can go to one location for routine healthcare from childhood through adulthood. "Most patients will choose convenience over loyalty to a physician," shares Dr. Gebke. The ability to take your kids and your parents to the same office, and maybe even on the same day, provides optimum convenience for many families. Family medicine practices are more common today, even in small towns.
Furthermore, over time, your family physician will have comprehensive knowledge of your and your family's medical history so they can provide the best care. You will also develop a more personal relationship and rapport with the doctor over time.
Continuity of Care
As you age, your healthcare needs change. Patients moving from one type of doctor's office to another could lose quality care as they transition because of the time it takes to transfer records and get acquainted with a new doctor. A family physician eliminates the need for these transitions, because they can treat you and accommodate your needs from birth to old age.
Comprehensive Care for Your Family
Though there may be a few additional factors to consider when selecting a doctor for your family, at least now you know whether to choose a family physician or a general physician. A family physician can care for all ages in your entire family, to address a wide range of concerns.