One of the very best ways to celebrate Mother's Day is with a photoshoot. Whether you hire a professional photographer or take the images yourself, capturing mom's relationship with her family is always a meaningful gift. These Mother's Day photoshoot ideas can help inspire you.
Spring Photoshoot Ideas for Mother's Day
Mother's Day comes at the perfect time in spring. Flowers are blooming, and there's no shortage of beautiful backdrops for creating some gorgeous photos.
Shoot in a Field of Flowers
Spring is a great time to shoot Mother's Day photos in a field of flowers. Make sure you include lots of the flowers in the photo, and have mom and the kids dress in simple clothing. White outfits can be perfect, as can soft pastels.
Finding a field of flowers doesn't have to be difficult. Look around your area or visit a local flower farm for a great backdrop. You can also ask private property owners if you can shoot some photos on their land; many will be happy to oblige.
Take Photos in the Garden
For many families, planting flowers can be a fun Mother's Day tradition. Whether you're planting new blooms together or simply enjoying the beauty in your backyard garden or a public space, this can be the perfect setting for a photoshoot.
Choose clothing that works well with the flowers nearby, avoiding loud patterns and bright shades. Let the flowers show, but also make sure they aren't taking up too much of the scene. The focus needs to be on mom and her children.
Head to the Beach
The beach is a great place to shoot Mother's Day photos, since it can be really pretty during the spring. You'll get beautiful backgrounds and a fresh look, whether you're near a lake, the ocean, or any other body of water. Keep it casual by wearing what you like, and let the wind blow everyone's hair a little bit.
For the best beach photos, try to go just after sunrise or just before sunset. Because the beach can be very bright with light reflecting off the water and sand, the end or beginning of the day can offer the most flattering light. Don't shoot with the sun directing in everyone's face. Instead, position your shot with the sun off to one side.
Go for the Green
A hedge of leaves makes a fantastic backdrop for a Mother's Day photoshoot. The green foliage creates a neutral background that still has some texture. It's a great way to make your photos look fresh and modern, and it goes well with almost any outfit choice. Look for a hedge that's in the shade for the most flattering lighting.
As you're shooting this, take a moment to check the white balance on your camera. Sometimes, a lot of green in a photo can trick the camera into thinking it should change the overall color to compensate. Take a couple of shots and preview them. If the color looks off, experiment with the white balance settings. This is different with every camera or app, but it's definitely worth checking.
Have an Orchard Photoshoot
If you live in a place with orchards, Mother's Day can be the ideal time to catch the trees in bloom. They make a gorgeous setting for a special photoshoot, especially if everyone dresses in simple clothing and has fun among the blossoms.
Check with local orchards before your shoot to find out when the trees are in bloom. Depending on your location, it may make sense to move the shoot to a little before or a little after the big day.
Mother's Day Photoshoot Ideas for Moms of All Ages
Older moms and grandmas also cherish special photos, so don't stop shooting just because the kids are older. In fact, a photoshoot can be the perfect Mother's Day gift for senior moms. These ideas can help you take great photos with moms of all ages.
Talk About the Funny Moments
One of the best ways to get real emotion in your Mother's Day photos is to capture everyone laughing together. To do this in a photoshoot with adults, talk about the funniest moments of growing up. This will get everyone laughing.
Have mom and her kids stand very close together and touch. This may seem a little awkward at first, but it looks perfectly natural in the final image. Take tons of photos so you can capture a variety of moments of laughter and reaction.
Sit on the Front Steps
For grown-up Mother's Day photoshoots, it's hard to beat the front steps of your mom's house as a location. The light is usually just about perfect, since there's often an overhang that provides some shade. It's also convenient and easy for moms of all ages to access.
To minimize distractions in this type of shot, move anything you can out of the background. Mom's potted plants and garden statues are cute, but they'll take away from the subject of the photo. You can also get in really close to keep some of these things out of the frame. Either way, the main focus needs to be on mom and her grown children.
Show the Generations
Include three or more generations for a really special Mother's Day photo she's sure to love. This is a poignant Mother's Day photoshoot for grandmas, and it's a wonderful way to show those family connections.
The key to making a multi-generation photo work is having people on different levels in the picture. Everyone should be very close together, but one person should be higher than another. Avoid having three people simply standing in a row.
At-Home Photoshoot Ideas for Mother's Day
Sometimes, home is where you get the most natural images. You can head out in your backyard or try one of these other at-home photoshoot ideas.
Capture Real Moments of Love
Set up your camera by a window and capture some candid moments of mom with the kids. Read a book, have a few snuggles, and just enjoy some genuine moments together. These may be the photos moms cherish most as the years go by, and Mother's Day is a wonderful time to make them happen.
If you're shooting this yourself, set up your camera on a tripod and set the timer to shoot at regular intervals of every second or two. If you're having someone else shoot the photo, simply ask them to keep shooting for a period of 20 minutes or so. The unscripted, special little moments will appear in your photos, either way.
Use Your Window Light
Window light can make a really special indoor Mother's Day portrait. If you're shooting at home, get to know your best windows. Look for something that's not too bright. Remove as much clutter as possible, taking pictures off the wall and moving furniture if you need to.
When you're ready to shoot, pose mom and her kids by the window. Make sure the light falls on each person's face, moving the people farthest from the window forward if you need to. You can also have someone hold a white sheet outside the frame to help reflect some of the beautiful light.
Follow the Kids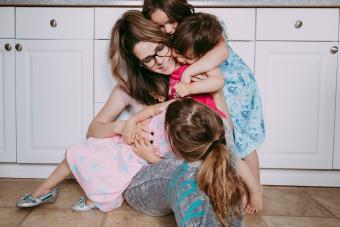 When you have young children, photoshoots can be less about choosing the perfect location and more about keeping everyone happy. For moms with little ones, it may make sense to get down on the floor with the kids and just have a fun time sharing a special moment you'll treasure.
To do a kid-focused photoshoot, get low. The photographer should be kneeling or even lying on the floor to really capture the expressions on kids' faces and their interactions with mom.
More Great Mother's Day Photoshoot Ideas
There are lots of ways to make your Mother's Day photoshoot special. Try one of the following ideas, or combine a few to create your own unique shoot.
Look at Each Other
A great pose for any Mother's Day photo is having mom and one of her kids look at each other. This type of photo shows the strong connection between a mother and her child, perfect for any photoshoot on this special day.
To do this best, position mom and the child close together, and then have them look at each other naturally. It may take a few shots to capture just the emotional connection you want, but just keep shooting. The special bond will show.
Show She's a Queen
Bring out a tiara or crown for a fun and playful Mother's Day shoot. You can have a child place the crown on mom's head as you take pictures. Be sure to shoot lots, since the adorable reactions are part of what makes this photoshoot idea so cute.
You can shoot this anywhere, inside or out. Pick a place that has a simple background and nice, soft light. Anything shaded or by a large window without bright sunlight is a perfect location.
Throw Some Confetti
Confetti photoshoots are always fun, and they're a perfect way to celebrate Mother's Day. You can use any kind of confetti you'd like, and keep the rest of the shot simple. Shoot it inside against a plain wall or outside without a lot of distractions. Keep outfits simple too.
For best results, shoot this with a shallow depth of field so some of the confetti is out of focus. The portrait setting on your phone camera is perfect for this, or if you have DSLR, use a wider aperture like f/2.0, f/1.8, or even larger.
Record the Gift-Giving
Special gifts are a big part of many Mother's Day celebrations, and you can record the moment with your camera. This works best for photogenic gifts like flowers and cards, although there are no rules. If you want to record mom opening her blender, go for it.
The key is to shoot continuously. Sometimes, the special moment in a gift-giving photo is actually just before the gift is opened. Start shooting as soon as the child starts to give the gift, and don't stop until mom has stopped reacting.
Keep It Close and Casual
A close, casual photo can be one of the most intimate and real snapshots you can take on Mother's Day. Make the focus on mom's interactions with the kids, worrying less about whether you get the entire scene in the frame. The point of this photo is the connection between mother and child, not any one person.
To make this type of image super special, go for the best light. Golden hour, which occurs just after sunrise and just before sunset, can make any moment magical. Watch for the light to look warmer, and then keep shooting until the sun is gone.
Try Black and White Too
Many people believe black and white photos can be among the most emotionally powerful, since the distraction of color is removed. If you agree, have some of your Mother's Day photos processed in black and white.
If you're editing the photos yourself, don't simply convert them to black and white and be done. Check to make sure you like the contrast. There should be a definite black in every photo, as well as some areas that are also very bright.
Remember This Special Day
A photoshoot makes a wonderful Mother's Day gift, and it's also fun to pair your photos with Mother's Day quotes to share online or in a card. No matter how you're celebrating this special day, you'll remember it forever if you have the perfect images to cherish.