Beach vacations provide ideal opportunities for families to enjoy time together while exploring portions of the United States. From Main to Florida, the East Coast offers beautiful locations for the ideal time together. These dozen spots provide the best East Coast beaches for families.
Old Orchard Beach, Maine
Seven miles of sand run along the coastline at Old Orchard Beach in Maine. The area brags of New England's only beachfront amusement park where the rides offer choices for very mild riders to those who desire to be scared breathless. The beach also has a lengthy boardwalk, which offers lots of eating and shopping choices. Minor league baseball adds to your experience during the summer months.
Cape May, New Jersey
Victorian charm resonates in this beach coast city that claims to be America's oldest seaside resort. There are lots of beach options, from the manicured landscape along the Jersey Shore to the wilder spots in Cape May Point State Park. Horse-drawn carriages, trolleys, boat excursions, the Cape May Bird Observatory, and the Cape May-Lewes Ferry are just some of the activity highlights. Historic Cold Spring Village allows visitors to wander back to the past with an ice cream parlor that will change your future.
Nantucket, Massachusetts
A historic showcase of the sea, Nantucket offers families a destination that is big on charm and charisma. Over 80 miles of beach coastline presents several specific choices. The larger Jetties Beach is also known for its on-site restaurant, The Sand Bar. A Whaling Museum offers interactive experiences for its visitors. Lighthouse fans will have a chance to look at three different examples.
Westerly, Rhode Island
A vacation to the Southern Rhode Island town of Westerly will delight beach lovers with its almost endless shoreline and multiple beaches. The white sandy beaches make for postcard perfect pictures. Old time attractions like the Flying Horse Carousel or the Atlantic Beach Park transport your vacation to simpler times. The Water Wizz park offers more than a thousand feet of splashing fun. Movies can be seen on the beach during the summer, and the Watch Hill Lighthouse Museum offers you a chance to see how keepers of lighthouses worked.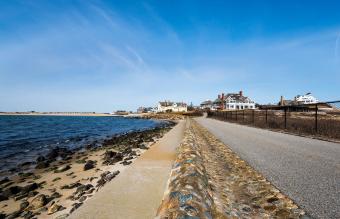 Ocean City, Maryland
One of the nation's most-loved beach vacation destinations is Ocean City, Maryland. The coastline features ten miles of free public beaches that are lifeguard patrolled every day in the summer. Family events line the beach with many featuring free activities. There is a boardwalk along the beach for over three miles with some of the most amazing food you will find anywhere. The crab cakes and salt water taffy alone make the destination worth the trip. Amusement rides are available at Trimper's Rides and Jolly Roger at the Pier.
Virginia Beach, Virginia
Families can savor the beauty at the place where the Chesapeake Bay combines with the Atlantic Ocean in Virginia Beach. The beaches are ideal for boating, surfing, water sports of almost any kind, and a sand so perfect it will make your sandcastle look professionally made. Street performers stroll the Boardwalk during the summer, while leisurely strolls can be made on foot or on bicycle. Atlantic Fun Park offers rides with incredible views, while Ocean Breeze Waterpark provides water slides galore. The Virginia Aquarium and Marine Science Center allows you to peak at sea turtles, sharks, seals and a host of other sea creatures. History buffs will enjoy exploring First Landing Sate Park, where English colonists landed in 1607 and Blackbeard is reported to have hidden out.
Outer Banks, North Carolina
The Outer Banks is a connected community of quaint and unique beach towns. Your explorations can cover over 200 miles of the most picture-perfect sandy beaches. The area is known for its friendliness and the atmosphere it creates. The beaches are often uncrowded ,and the restaurants offer food you will remember and talk about for months. The Outer Banks truly offers many choices for people of all ages.
Myrtle Beach, South Carolina
Myrtle Beach in South Carolina is a favorite destination because it offers several entertainment options that cannot be matched elsewhere. The shoreline consists of over 60 miles of white sand. Regulation and miniature golf course speckle the landscape. Families can enjoy cruises peeking for dolphins or shops that offer bargains. The area is also known for several incredible festivals.
Hilton Head Island, South Carolina
Twelve miles of beaches line the coast on Hilton Head Island in South Carolina. Several of the beaches are often uncrowded, while some offer non-stop adventure and entertainment. Miles of bike trails line the landscape, weaving you in and out of live oak areas. Boating, helicopter rides, kayaking, horseback riding, and amazing golf courses highlight your stay. Hilton Head offers a lighthouse to explore and neighborhoods that feel like home.
St. Simons Island, Georgia
South of Savannah, St. Simon's Island is a hidden gem for families who want a place to escape, explore the outdoors, and enjoy some amazing food. The beaches are a little more rugged but offer several opportunities for play, searching for seashells and spying for dolphins. There are lifeguards present throughout the summer. Dedicated bike paths line the terrain, with ancient oak trees guarding your journeys. Food ranges from street tacos to tasty Georgia BBQ or fresh seafood.
Amelia Island, Florida
If you are looking for a peaceful, quiet vacation spot on a beach, you need to look no further than Amelia Island. Beautiful beaches, wildlife preserves and crystal-clear waters make this a favorite vacation spot. The island features cultures from Spain, France, Britain and America. Golf courses, sandy beaches, a boardwalk, public sports and sand dunes will make this a vacation you will remember and cherish.
Port St. Lucie, Florida
Port St. Lucie is located in the heart of Florida's Treasure Coast, about an hour north of Palm Beach. Its Botanical Gardens are home to orchids, bamboo and other native plants, as well as butterflies and hummingbirds. The Boardwalk winds its way through dining and shopping areas. The Aquatic Preserve features manatees, river otters, egrets and alligators. Even though the city is mostly landlocked, Port St. Lucie offers easy access to miles of Florida's most amazing beaches. Peek at Hutchinson Island beaches and you will be a believer.
Best East Coast Beaches for Families
The East Coast offers several vacation choices, but they say a beach day is always a good day. Special beaches line America's coasts offering several of the best East Coast beaches for families. Atmosphere, activities and amazing scenery will make one of these stops a vacation to remember.