62 Fun Family Night Ideas and Activities
Family night ideas include fun games and activities any family can enjoy together at home or in their neighborhood. Whether you've got toddlers or grandparents to entertain, family nights are the perfect family bonding activities.
Family Night Ideas With Toddlers
When you've got little kids, learning how to have fun with your family at home is priceless. Babies, toddlers, and preschoolers don't stay up too late and often get cranky at night, so finding fun in and around your home is often the best option.
Free and Cheap Family Night Ideas for Little Kids
Free and fun family activities are great for this age group because little kids already require a lot of money for things like diapers. Toddlers especially enjoy things they aren't supposed to do or play with, so give them novel experiences and they'll be thrilled.
Play flashlight hide-and-seek in the house.
Create an indoor drive-in movie by pushing the couch aside and sitting in pillow-lined laundry baskets to watch a show.
Use painter's tape to map out a road all around one floor of your house, then play cars together.
Make indoor outline people by outlining each other with painter's tape on the floor. Find clothes and accessories to lay on top of the outlines to complete the people.
Craft and serve custom drinks by giving your child small cups of a few different drinks like juice, pop, and lemonade. Each family member can make and name a new drink, then everyone votes on their favorite.
Start a family band using items from around the house like pots and pans. Let the kids pick their favorite song, then try playing and singing it together.
Play a play dough guessing game where you each mold things out of play dough and guess what each other made.
Have a dance party using a speaker with built-in light show or a disco ball and make up new dance moves to teach each other.
Watch a movie somewhere weird like while sitting in the empty bathtub together or laying under the bed.
Set up your own bowling alley using 16-ounce plastic cups or empty pop bottles as your pins and any softer toy ball.
Elaborate Family Night Ideas for Little Kids
If you've got a little more spending money, kids who don't get too cranky in the evening, or aren't afraid to make a mess, you can try out some more elaborate family night ideas.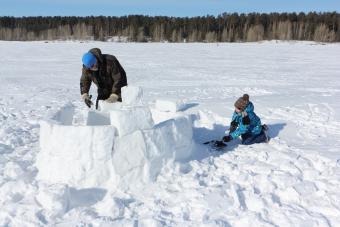 Go on a holiday decoration scavenger hunt in your car by driving around town looking for great displays at Christmas or Halloween.
Head to the nearest railroad tracks and watch for trains to pass by. Bring snacks and train-themed coloring pages to keep kids busy while you wait, then count the cars when one appears.
Create your own indoor water park if you have one of those large walk-in showers. Throw on your bathing suits, turn off the lights, and bring glow sticks and water toys into the shower to play.
Build a teepee out of sticks and branches in the woods, then sit inside and play a traditional Native American or colonial game.
Spend the night at someone else's house, like a close friend or family member who is out of town.
Use snow tools like brick molds to make an igloo in the backyard.
Fill water balloons and squirt guns with colored water and create snow art by playing with the water toys in the snow-covered yard.
Use a kit to build a simple rocket that launches using baking soda and vinegar, then take it outside to launch again and again.
Family Night Ideas With School-Aged Kids
Kids ages five to 10 have very definite ideas about what they like, so look for family night ideas that incorporate their interests. Since they're older, you'll be able to try out activities that take up more time.
Free and Cheap Family Night Ideas for Young Kids
Willing parents are pretty much all kids need to have fun as a family. Think outside the box and look for activities that are really fun and funny.
Invent your own family board game and play it.
Have a fun family photo shoot where each person gets the chance to create the backdrop and choose everyone's outfits.
Make a family trip wish list in a notebook or on a map of all the places you'd like to visit together.
Set up a S'mores buffet using your fireplace or gas stove to cook the marshmallows. Make each other unique S'mores by replacing the chocolate bar with other candy bars and try to guess what's in them.
Play a group phone game that gets you moving like Pokémon Go or Wizards Unite.
Have a real water war in the yard where each person has a home base and you use water balloons, squirt guns, and even buckets of water.
Have a Nerf gun fight indoors or outside. Make sure you stock up on Nerf darts and keep them in buckets around the play area.
Make a ninja warrior course inside or outside using furniture, kiddie pools, and other DIY obstacles.
Elaborate Family Night Ideas for Young Kids
Kids in this age group like to feel independent and want a say in how they spend their free time. Let the kids help plan your family night to make it more appealing.
Host a "Chicken Challenge" dinner where each person create a dish featuring chicken and anything they can find in the pantry. Everyone will try each other's and vote for the best.
Support a local sports team by attending a game or special fundraising event.
Do some tandem sledding at a local ski resort or by tying your inflated sleds together as you slide down a local hill in winter.
Sleep over at a museum, aquarium, or sports stadium when they host one of these events.
Take apart an old piece of electronic equipment, like a VCR or broken DVD player, then rebuild it.
Make homemade dog treats or accessories, like doggie scarves and tied blankets, then deliver them to a local animal shelter.
Host a dollar store challenge where each person has the same amount to spend in the dollar store, but the goal is to buy more individual items than anyone else.
Create an at-home spa complete with a bathtub foot soak you can all enjoy together and wash-off facial masks you do while wearing big, comfy robes.
Family Night Ideas With Tweens and Teens
Teens and tweens aren't always excited about family nights, but this kind of family bonding time is crucial to their emotional and mental health. Include them in the planning to ensure they come willingly and have a good time.
Free and Cheap Family Night Ideas for Teens
Use your interests or your older kid's interests to help you decide which family nights will be most enticing. Show your tweens and teens that they're never too old for fun with free and cheap family night ideas.
Take a night bike ride through town together. Make sure everyone's got a light on their bike or is wearing reflective clothing. Have more fun by decorating your bikes with glow-in-the-dark materials.
Upcycle clothing or jewelry together by each cleaning out your closet and working together to turn the old into something new.
Host a family ping pong tournament complete with a poster board bracket where you can track the winners.
Have a cemetery picnic and tell ghost stories.
Use the pieces from your existing lawn games to invent a cool new lawn game.
Make a home movie inspired by your family's favorite TV show, book, or movie.
Elaborate Family Night Ideas for Teens
Kids in this age group will appreciate the chance to do things that might be a little more novel and sometimes more expensive.
Complete a ropes course together.
Head out to a virtual reality (VR) gaming site where you can all play a cooperative VR video game together.
Take turns setting up fake crime scenes that your other family members will have to solve.
Buy a couple laser tag sets and play in your home or yard.
Head out to the nearest trampoline park for a competitive game of dodge ball.
Host an in-home paint night where you each create a painting that matches up with the next person's when they are hung side-by-side.
Family Night Ideas With Mixed Age Groups
Fun family night out ideas for all ages are great for families with kids in different developmental stages. Whether you choose to go out or stay in, look for activities that will be fun and doable for everyone. If you like to include Grandma and Grandpa or your siblings and their kids in your family nights, you'll want to find great large group activities.
Play costume charades where you have to find clothing, accessories, and costume pieces from around the house to dress up as whatever you're supposed to portray.
Play a game of Family Guess Who? where you each write down three to five things you have done that others might not know. Take turns pulling papers out of a bowl and guessing who did that thing.
Host a family favorites TV marathon where each person gets to choose one show to watch an episode of with the whole family.
Host a family craft night where you lay out all your craft supplies on one table and everyone can create their own craft while sitting together at another table.
Challenge each other to brain games such as logic puzzles. Set up a point system to assign each person an IQ at the end of the night.
Play Minute to Win It style games. Pretend you're on the game show and assign one person to host.
Play Our Family Feud by polling all family members on several Family Feud style questions, then playing a DIY game of Family Feud.
School and Church Family Night Ideas
Family night activities for church or hosted by a school can help get many families together at once. Everything from educational and creative family literacy activities to family movie nights are fair game as long as you can fit a crowd.
Family Fitness Night: Create stations for things like yoga, an obstacle course, and even a short walk where families can engage in physical fitness together.
Family Movie Night: Show a movie on a large screen and include a concession stand with snacks.
Family Baking Night: Get a local baker to volunteer to show families how to make a cupcake bouquet or decorate holiday cookies.
Family Building Night: Set up stations that include different building materials like LEGOs, fort kits, and even wood and nails for older kids.
Family Science Experiment Night: Create a few "class" options families can opt to take where they learn about one science topic and complete a related experiment.
Family Game Night: Invent fun group games or set up a variety of board games and giant games.
Family Escape Room Night: Make your own escape rooms for different age levels and have families sign up for time slots.
Family Lock In: Give families the chance to bring their own sleeping bags and camp out inside your church or school. Provide lots of snacks and fun activities to keep everyone entertained.
Family Versus Family Competition: Host a fun tournament like kickball or wiffle ball where families can compete against each other.
Make the Most of Family Nights
Whether you're looking for summer family fun or great winter family nights, there are thousands of activities to choose from. Get creative and look for activities that will be new experiences for your kids or your entire family.