Celebrate grandma or grandpa's birthday, Grandparent's Day, or let your nan and pops know you love them any day of the year with fun grandparents clipart. Free clipart that includes grandpa, grandma, or both grandparents with their grandchildren can be used for a variety of projects, from homemade cards and scrapbooks to school projects about family.
Free Digital Artwork Featuring Grandparents
This digital artwork is free to download and free to use for non-commercial projects. Right-click any image that you'd like to use and save it to your hard drive or an external storage device. From there, you can upload it to any document you are working on. Some images are JPEG format while others are PNG.
Black and White Images of Grandma and Grandpa Together
Grandparents often have the honor of being aspirational couples who've spent decades together. Show off how cute they are as a couple with fun black and white grandparent clipart couples you can color on your own.
Full-Color Images of Grandparents
Celebrate sweet-natured grannies and grandfathers with these digital images of grandparents.
Cool Clipart of Modern Grandparents
If your grandparents are hip to modern technology, these cool clipart images show off their modern side. From cell phones and tablets to yoga, modern grandparents are on trend.
Family Portraits of Grandparents and Their Grandchildren
Show your grandparents how they complete your family with images of grandparents and their grandchildren. Free clipart of grandparents with grandchildren can be used for projects made by the grandparents for their grandchildren or for projects created by the grandchildren.
Loving Images of Grandmothers
Grandmas are known for their baking and crafting skills and their ability to love like no other. Loving grandma clipart images capture their sweet spirit.
Sweet Images of Grandpa
Grandfathers are known for their sense of humor and ability to unite families. Showcase what makes your grandpa great with fun images of grandfathers.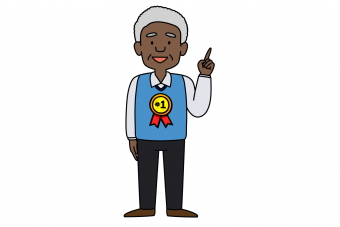 Creative Ways to Use Grandparent Clipart
You can use grandparent clipart online or print and cut out the clipart to use in handmade projects. From Grandparent's Day crafts to "just because" cards, you can use grandparent digital images for almost any family craft.
Make your school family tree project pop by adding grandparent clipart to your cartoon tree. Embellish the clipart images with fun stickers that speak to your grandparent's personality.
Create a homemade card for grandpa or grandma's birthday by combining clipart images with short sayings about grandparents.
Personalize wedding thank you cards by adding a wedding day poem for grandparents to a clipart image.
Decoupage different grandparent clipart images onto individual tiles to create coasters you'll give as a unique grandparent gift.
Write an original picture book dedicated to your grandparents using clipart instead of original illustrations.
Add cute clipart to family cookbooks packed full of grandma and grandpa's favorite recipes.
Jazz up your holiday cards with sweet clipart just for grandma and grandpa.
Invite the grandparents over for a special dinner, cooked by the kids! Make placemats and menus for the guests of honor that are adorned with sweet clipart images.
Use those cold or rainy days to practice literacy skills with your kids. Have them create poetry just for grandma and grandpa and decorate the sweet sentiments with specialized clipart.
Where to Score Great Grandparent Clipart
If you didn't find exactly what you were searching for here, no worries! The internet is jam-packed with free and fun clipart that will serve your artistic needs. If you need specific grandparent-related artwork, try these sites.
Gograph.com - Gograph.com has clipart for just about any occasion imaginable. It has no shortage of fun clipart based around grandparents. You are bound to find what you are looking for here.
Cliparts Zone - There are so many different grandparent clipart images to choose from. The site includes cartoon images, black and white images that can be printed and colored, and sayings pertaining to grandparents.
Allfreedownload.com - With over 20,000 clipart options in its library, this site has several options for grandparent-related clipart. Everything here is organized efficiently, making it simple to find exactly what you are looking for.
Show Grandma and Grandpa Some Love
Using clipart allows you to put together messages honoring the older generation in your family in a visual and creative way. Enhance any project you are working on with complementary graphic elements to help convey just how much you appreciate the love, guidance, and support you've received from elder family members throughout your lifetime.