The only thing more fun than gathering around a campfire to share a meal with your friends and family is to actually create the meal right there at the campsite, in just one pot. Fortunately, there are a lot of great meal ideas that you can cook outdoors in a single piece of cookware! All of the 20 one-pot camping meals listed below can be prepared in a Dutch oven or cast-iron skillet over a campfire or on a grill. You can also make them in a regular pot on a camping stove.
Loaded Nachos
Nachos are a quick, fun meal to enjoy at the end of a busy day filled with outdoor adventures. When you're getting food prepared for your trip, fill a small storage container with a mix of your favorite nacho toppings, such as diced tomatoes, diced onions, sliced green onions, and/or olives.
To make campsite nachos, just spray your cast-iron pot or pan with nonstick cooking spray and warm over the grill or campfire. Add tortilla chips, then cover with refried beans (optional) and cheddar cheese. Once the cheese melts, remove the container from the fire and add the pre-mixed toppings. Add jalapenos to a section if some campers prefer super-spicy nachos. Pour salsa over the top and enjoy!
Irish Nachos
Nachos don't necessarily have to start with tortilla chips. For a bit of Irish flair, create a campfire meal that starts with a base of diced or thinly sliced potatoes. Cut potatoes into the desired shape and size while you're heating oil in your pot or pan over the fire or on the grill.
Stir-fry diced onions and peppers in the oil until wilted, then add the potatoes. Sprinkle with salt and pepper and cook until soft (around 15 to 20 minutes, depending on length). Then, top with bacon bits or deli corned beef (cut into chunks), sliced green onions, and any other toppings you want. Generously sprinkle shredded cheddar on top. Once the cheese has melted, remove from the heat and enjoy.
Chicken and Stuffing
With a can or two of shredded chicken and a package of store-bought stuffing mix, you can have a delicious feast ready to enjoy at the campsite in no time at all. Just open and drain a can of chicken and put it in your pot. Then, following the instructions on the stuffing mix package, add the proper amount of water or canned chicken stock (either is fine), and let the liquid heat to near-boiling. Remove from the fire, stir in the stuffing mix, and wait a few minutes for all of the liquid to absorb. You'll have a tasty one-pot meal ready to enjoy in no time at all.
Beef and Potato Stew
Beef stew is a great one-pot meal to enjoy while camping. Somehow, it seems to taste even better cooked outdoors in a Dutch oven rather than inside on a stove. Use your favorite beef stew recipe, making a few changes to simplify it for outdoor cooking.
For example, if you don't want to pack flour, thicken your stew by adding a can of cream of mushroom soup and slightly reducing the liquid. If your recipe calls for beer or beef stock, feel free to use water instead. Mix up the spices you plan to use before your trip so you can just dump the contents of one baggie or container into the pot. Plan to simmer your stew for at least two hours to allow time for the potatoes to cook thoroughly. When they're soft and the meat is tender, the stew is ready.
Vegetable Soup
It's also really easy to prepare vegetable soup over a campfire. Just use your favorite vegetable soup recipe, adapted for cooking over an open fire.
For example, the soup will cook faster if you use frozen or canned mixed vegetables instead of cutting up fresh veggies. Consider using a can of tomatoes and extra water instead of vegetable stock if you don't want to have to carry multiple canned goods with you. This way, you'll get a two-in-one combination of vegetables (the tomatoes) and flavored broth (the can juice paired with water). Allow your soup to simmer for at least half an hour; you may need to cook it longer if you use fresh vegetables.
Beef and Vegetable Soup
If you like the idea of vegetable soup but want to include some meat as well, opt for a meaty version. You can use a beef and vegetable soup recipe, or just add a step to the beginning of preparing vegetable soup. Simply start out by cooking small cubes of beef in your Dutch oven before you do anything else, then move forward with any simple vegetable soup recipe. Or, use hamburger meat instead to make ground beef soup.
You'll end up with a flavorful soup all the meat-eaters in your group are sure to love. The soup will taste best if the meat is really tender, so be sure to let it simmer for a few hours.
Campground Chili
For dishes like chili that require ground meat, you can either cook it in the pot over the campfire or crumble and cook it at home before your trip and freeze it. Just store it in your cooler until you're ready to use it in a recipe.
To make chili, put ground beef or ground turkey in a Dutch oven; cook if you didn't pre-cook it before your trip. Add seasonings from your favorite chili recipe (which you combined and put in a baggie before the trip) or a prepackaged chili mix. Add the proper amounts of water, canned tomatoes, and chili or pinto beans (based on the recipe or package). Chili usually tastes best if it simmers for at least half an hour, though cooking it a bit longer may result in an even better flavor.
Vegetarian Chili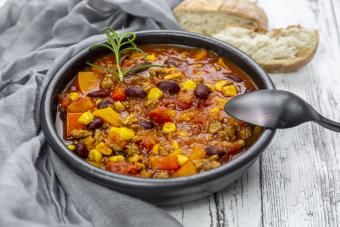 Chili doesn't have to have meat in it to be tasty. It's not at all difficult to prepare vegetarian chili at a campsite. You could simply omit the meat from any chili recipe or mix, or opt for a vegetarian chili recipe specifically designed to be prepared without meat.
Most vegetarian chili dishes simply consist of tomatoes and beans paired with liquid and a variety of spices and some veggies. You can minimize the need to pack veggies and spices by using a jar of Picante sauce or salsa, being sure to deduct an equivalent amount of liquid. Corn and black beans are especially delicious in vegetarian chili.
White Chicken Chili
Chicken chili is another good option to consider. Use your favorite white chicken chili recipe, but make a few adaptations for camping.
For example, consider using pre-cooked, canned chicken instead of cooking fresh chicken. Most chicken chili recipes call for cream or milk to give it a rich consistency. So that you don't have to worry about properly chilling fresh dairy, use canned evaporated milk instead. You can substitute an equivalent amount of evaporated milk for heavy cream. If your recipe calls for milk, use half the amount of evaporated milk paired with an equivalent amount of water.
Tex Mex Shredded Chicken Skillet
Buy enough canned chicken to also make a tasty Tex Mex chicken skillet dinner at your campsite. Simply spray your pot or skillet with nonstick cooking spray or lightly coat it with oil.
Heat over a grill or campfire; add diced onions and peppers and cook for a couple of minutes. Add drained canned chicken (in whatever amount you need to feed your group) and stir. Then, add drained canned corn and black beans. Next, stir in salsa until everything is well-coated, but not too liquid, and heat through. Top with shredded cheese. When the cheese is melted, remove it from the fire and enjoy. If desired, you can stir in some pre-cooked rice before adding the salsa.
Chicken Tortilla Soup
Chicken tortilla soup is another great chicken dish to enjoy while camping. Use your favorite chicken tortilla soup recipe, but adjust so that it's camping-friendly by substituting canned chicken for raw chicken and making a few other tweaks to simplify the preparation and cooking process.
If your recipe calls for fresh or frozen corn, it'll be a lot easier to use canned corn while you're camping. If you don't want to deal with all the seasonings, just stir in a jar of salsa and adjust the liquid accordingly. Top with store-bought tortilla strips or just put out a bag of tortilla chips at mealtime.
Taco Soup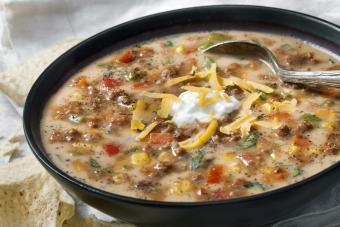 Taco soup is another great one-pot meal idea that you can enjoy while camping. When you're ready to make taco soup, start with ground beef or turkey, either pre-cooked meat that has been frozen or raw ground meat that you need to cook.
Once the meat is cooked, add five or six cans of drained beans. You can use any combination of pinto, navy, garbanzo, great northern, black, or kidney beans. You can also use chile beans, but don't drain them (the sauce is yummy). Add a can of tomatoes with green chiles and a packet of taco seasoning mix (or use homemade taco seasoning). If desired, stir in a can of drained whole-kernel corn. Add enough water to achieve a soupy consistency. Simmer at least half an hour. Top servings with cheese.
Cheeseburger Macaroni
Hamburger Helper-style mixes are your friend when you are looking for quick, one-pot camping meals. You can also use your own pasta and ingredients for a from-scratch version, but if you go that route you will need to drain the noodles and do more prep work.
With a store-bought mix, you'll just need to cook ground beef or turkey (or use pre-cooked, frozen crumbled meat), add water, and stir in the seasoning packet. Once the water is near boiling, you just need to add the noodles and let the mixture cook. Wait the amount of time directed on the box and you'll have a quick, hot meal ready in just a few minutes. Of course, you don't have to stick with the cheeseburger variety; opt for any flavor you and your traveling partners enjoy.
Breakfast Scramble
It's easy to cook scrambled eggs in a pot or pan at a campsite. Scrambled eggs can be a full meal on their own, but you can also boost their taste (and nutrition) by adding in veggies and/or meat to create a breakfast scramble.
Consider sauteing onions, peppers, and/or mushrooms in melted butter or hot oil before you put the eggs in the pan, then scramble them all together. Season with salt and pepper. Add some pre-cooked bacon slices (or bacon bits) to the top before serving and top off with a sprinkle of cheese. If you like to add milk to your eggs but don't want to take milk along on a camping trip, you can use canned evaporated milk instead (diluted with 50 percent water).
Ham and Egg Breakfast Skillet
Scrambled isn't the only option for cooking eggs at a campsite. This ham and egg breakfast casserole recipe only needs a few simple tweaks to make it campground friendly. You can use leftover ham from your freezer or purchase canned or sliced ham from the supermarket.
You could also use pre-cooked bacon or sausage instead of (or in addition to) the ham and include any veggies you want. Substitute evaporated milk for the heavy cream (in the same quantity). Rather than baking in the oven, of course, cook on the grill or over the campfire. The cooking time will vary based on whether you like your eggs soft or hard, so keep a close watch as it cooks.
White Beans and Ham
If you're purchasing ham to use for a breakfast skillet, get enough to also prepare a delicious meal of white beans and ham. You can use your favorite ham and bean soup recipe, or go the super-easy route by simply combining chunks of ham with canned white beans, such as navy beans or great northern beans in your pot, and heating through.
You can even add some canned carrots if you like. If you want it to have a soup-like consistency, just add water or stock and simmer for at least half an hour. Either option is fine, though if you're looking to minimize work, go with all canned goods for campsite cooking and save the full recipe for when you're back home.
Sausage and Cabbage
Purchase your favorite variety of thick link sausages, such as beef smoked sausage or kielbasa. For the fastest cooking, slice it vertically to cut each length in half, then cut horizontally into chunks about 2 inches long. Heat your pot, add the sausage, and cook thoroughly.
Once the sausage is cooked, add the equivalent of a medium head of cabbage cut into slices. Either buy a fresh cabbage to slice or dump in a package of coleslaw mix purchased from the grocery store. For an even easier (but different version), use sauerkraut instead of fresh cabbage. Season with salt and pepper, then mix well. Cook until cabbage is soft, stirring frequently.
Sausage and Potatoes
You can also combine chunks of sausage with potatoes to make a tasty one-pot meal at your campsite. Just cut your favorite thick link sausages into chunks and cook in a pan. They'll cook faster if you slice the links vertically first. While they are cooking, add in some diced onion and bell pepper for additional flavor.
Once the sausage is cooked, add in slices or chunks of potatoes, season with salt and pepper, and stir. Cook until the potatoes are soft, stirring frequently. Cooking time will vary based on the size of the potatoes. Optionally, once the potatoes are fully cooked, you may want to sprinkle shredded cheese on top and allow it to melt before serving.
Beans and Rice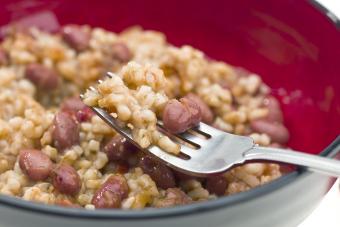 As long as you can boil water at your campsite, you can whip up a batch of beans and rice. You can use any kind of rice you like, though the fastest option is to use dehydrated instant rice (such as Minute Rice). Cook your rice per the package directions, being sure to add salt and any other seasonings you like.
When the rice is cooked, stir in a can (or more, depending on group size) of drained beans and allow to heat through. This dish is particularly good with black beans, though it also tastes great with beans, chili beans, or even black-eyed peas. You'll have a super-simple bean-and-rice dish in no time at all, with a minimal amount of effort.
Franks and Beans
Franks and beans, sometimes referred to as beanie weenies, is one of the easiest one-pot meals to make when you are camping. To prepare this simple, filling dish, all you need is a few cans of pork and beans and a package of hot dogs. Place both items into a cast-iron pot or pan and place it on the grill, camping stove, or on a grate or tripod above an open campfire. Cook until heated through and serve. Nothing could be easier than that.
You can give the dish your own unique flair by stirring in a few of your favorite seasonings. Consider adding barbecue sauce, mustard, allspice, and/or maple syrup for a flavor boost.
Ready-Made One-Pot Camping Meals
Not all one-pot meals have to be based on recipes that you make from scratch. For example, many one-pot backpacking recipes use store-bought rice or pasta mixes. Supermarkets carry a variety of prepackaged convenience foods that you can easily use to make quick and easy one-pot meals to simmer on a grill or over a campfire. Examples include:
Chicken and dumplings
Corned beef hash
Soup
Beef stew
Ravioli
Supplies for One-Pot Campground Cooking
If you plan to prepare one-pot camping meals during your next camping trip, be sure to take along the necessary campground cooking supplies and equipment. Items necessary to enjoy this type of outdoor cooking include:
Cast iron Dutch oven, pot, or large skillet
Propane or dual-fuel camping stove
Slow cooker or electric burner (if you're going to be at an improved campsite or are traveling by RV)
Large spoon for stirring and serving
Spatula or tongs
Manual can opener
Hot pad or oven mitt
Plates and/or bowls
Utensils
Liquid dish soap
Sponge
Enjoy Delicious Dinners in the Great Outdoors
With a bit of pre-planning, you don't have to limit yourself to basic sandwiches and simple snacks when you go camping. These one-pot camping recipes and meal ideas are a great way to enjoy cooking in the great outdoors without having to constantly tend a grill. They're tasty, filling deliciousness that everyone is sure to enjoy. For an even more special touch, serve one of these scrumptious camping dessert recipes as a finishing touch.