The great state of Washington is packed full of wonder and beauty. Those who explore the outdoors and indulge in camping likely know this firsthand. There are countless campgrounds in Washington State, all of which offer campers something special and unique.
Choose a Campground in Washington State
Washington State is one of the greatest camping destinations. All four corners of the state are filled with impressive campgrounds and amazing natural attractions that draw visitors throughout the year. There are campgrounds near every major city, including Seattle, Vancouver, Yakima, and every other part of the state. The parks that serve as home to these campgrounds offer activities such as fishing, boating, swimming, and best of all, some of the greatest hiking opportunities west of the Rockies. The following hot spots are some of the most popular destinations for campers who visit Washington.
Deception Pass
Deception Pass State Park is only 80 miles outside of Seattle, but it feels like an entirely different world. Deception Pass encompasses both Whidbey and Fidalgo Island, both of which are known for their camping areas. Three hundred campsites are spread throughout three primary areas of this park, so there are plenty to choose from. Site fee range from $27 to $50 during the peak season, depending on accommodations. Tents and RVs are welcome, and partial hookups are available. Hike, swim, or climb your day away, and then settle in for a homecooked campfire dinner and a sleep under the stars.
Colonial Creek Campgrounds
Located in the North Cascades National Park near Diablo, North and South Colonial Creek Campgrounds are often referred to as one of the most beautiful camping spaces in the entire state of Washington. Ninety four spacious campsites in the South campground and 41 campsites in the North campground open up to the crystal clear waters of Diablo Lake. Enjoy endless water activities here for roughly $24 a night. Sites include access to drinking water, flushing toilets, trash removal, a picnic table, and a campfire ring to keep campers warm and toasty on cool nights.
Bowl and Pitcher Campground
Bowl and Pitcher might be unimpressive in size, but good things come in small packages. Located in the Spokane area within Riverside State Park, it has 16 standard campsites, 16 partial-hookup sites, and two bathrooms. Site fees range from $27 to $50 per night, depending on the season and accommodations.
Just south of Bowl and Pitcher is an area that has 21 equestrian campsites with corrals. Horse lovers can camp right alongside their trusty steed. There are so many amazing trails to occupy your days with here. It really is a hiker's paradise.
Hoh Rainforest Campground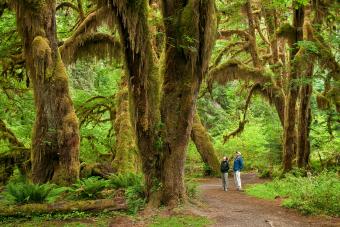 Camping in a rainforest? Yes, please! Hoh Rainforest Campground is located on the Olympic Peninsula of western Washington. The campground includes 78 sites, giving lucky campers a chance to immerse themselves in one of the most unique camping spaces in the entire world! The campground takes reservations from July 20 to September 15, and functions on a first-come, first-served basis outside of this window. Regular sites cost $24 per night, and group sites cost $48 per night.
The campground includes flushable toilets and potable water. The star of the show is the campground's proximity to well-known trailheads. When it comes to hiking, Hoh is home to some of the best trails in the entire nation.
Lake Wenatchee State Park Campground
This campground is only 29 miles outside of the town of Leavenworth, which visitors have described as a small Bavarian town tucked away in the quiet and picturesque mountains. Lake Wenatchee State Park Campground offers tons of hiking opportunities, and shallow lagoon swims for young children or those trying out water recreational activities such as paddle boarding or kayaking for the first time.
Two primary loops contain 150 camping sites that can accommodate either tents or recreational vehicles. Site fees range from $27 to $50 per night, depending on the season and accommodations. Campers flock to this mountain retreat all year long as the wintertime offers just as many fun and exciting activities as the summer does. Warming stations and heated restrooms are available, as is the opportunity for large group camping and gathering.
The Driftwood RV Resort and Campground
Located in Copalis Beach, Washington, The Driftwood RV Resort and Campground takes the camping experience to the shore. The privately owned campground has plenty to offer those who stay on the grounds, but several beach towns are located nearby for campers needing a change of scenery. Site fees range from $40 to $55 a night.
The campground has countless amenities, including an outdoor pool, playground, tennis courts, gift shop, and on-property laundry facilities, to name a few. Nearby attractions include The Cape May Zoo, Cape May National Wildlife Refuge, Wildwood Beach, and Morey's Pier.
South Beach Campground
South Beach Campground is located in Olympic National Park. Your time here won't be filled with bells and whistles, but it will include sights and scenes that will blow you away. The 55 first-come, first-served campsites are perched atop a bluff that overlooks the mighty Pacific Ocean.
The campground does have flushing toilets, but campers will have to transport their water in with them. The nightly cost is only $15. That is pretty inexpensive for such priceless surroundings.
Cougar Rock Campground
Cougar Rock Campground is located on the southern side of Mount Rainier. With 170 reservable sites at the campground, your chances of scoring a space are decent. That said, this is one of the more popular campgrounds in the state, so as soon as the reservation window opens, you'll want to be logged in or on the line securing your summer camping spot. Site fees range from $20 to $60, depending on the season and number of campers.
Cougar Rock is particularly special because it is a stone's throw from Paradise, literally. The Paradise area of Mount Rainier National Park gives travelers a front-row seat to the mountain's glacial structures. Those who appreciate the pristine beauty this part of the country has to offer know that Cougar Rock is about as special as it gets.
Ohanapecosh Campground
This Washington campground sits on the southeast side of Mount Rainier National Park. It is packed full of lush vegetation, wildlife, and a snow-fed river. Campers can hike popular nearby trails such as Silver Falls and the Grove of the Patriarchs. The campground contains 188 sites and is appropriate for tent camping and RV camping. Site fees are $20 per night. Potable water is available but there are no electric hookups.
Because bears and other wild animals call this area home, visitors have to take extra caution when camping in this region, following bear safety precautions with food and otherwise. Here, campers can enjoy sightseeing, hiking, climbing, and if they visit in July, a wildflower display that is second to none!
Wanapum Recreation Area
Campers here are in for a petrified treat. Located in the Ginkgo Petrified Forest State Park, this campground contains some of the most diverse fossil forests in the nation. While Ginkgo only offers visitors day use, camping at Wanapum Recreation Area is only 3 miles from this special place. The campground has 50 full-hookup RV sites and two hiker/biker areas for usage. Site fees range from $27 to $50 per night, depending on the season.
The area also provides campers water recreation activities galore as well as entertainment opportunities, as Gorge Amphitheater sits nearby. Running water and flushable toilets add a touch of comfort to this otherwise rustic and magnificent Washington campground.
Fairholme Campground
Fairholme Campground sits on the west end of Lake Cresent. The area contains 88 sites, but none have hookups. Still, plenty of RVs make camp here every year during the season. The campground doesn't accept reservations, and all are given out on a first-come, first-served basis. Site fees are $24 per night.
Fairholme has the basic amenities one might expect from a campground, but the real draw here is the water. If you love being outdoors and love the water, this is a perfect camping spot.
Fort Flagler Upper Campground
Campers staying here wake up to views of Puget Sound and the Olympic and Cascade Mountains, and that is hard to beat! The campground contains nine standard campsites, 55 hook-up spaces, and two primitive sites. Rates range from $12 a site to $50 a site during the peak season and are dependant on the type of site you reserve.
At Flagler, there is no shortage of amenities. The grounds boast 5 miles of hiking and biking trails, and 2 miles of beach trails. Water activities reign supreme here, and campers can spend their days boating, swimming, fishing, clamming, and crabbing.
Find Free Camping in Washington State
Who doesn't like a free vacation? Sold. Generally speaking, camping is a relatively cheap way to explore the world around you. Some places in the state of Washington offer campers the experience of living in nature (albeit temporarily) for no cost. The following campgrounds are free of charge for avid campers looking to get away.
Twentynine Pines Campground: Located near the city of Cle Elum, this sixty-space campsite is free to those who have a Discover Pass. The campground sits on Department of Natural Resources land, and is not maintained. Those planning a stay here have to bring everything they might need. The grounds provide firepits, picnic tables, and bathroom facilities, however.

Cowlitz Wildlife Area: Located near the town of Randle, Cowlitz can be accessed by campers for free all year round. The campground contains about 30 sites, and campers can make camp there for 14 consecutive days.

Crawfish Lake Campground: This campground, consisting of 19 lakeside sites, sits in the Okanogan-Wenatchee National Forest. Staying here is free, but expect sites to fill up pretty quickly. Fishing lovers will be drawn to this space as the lake provides ample opportunities to snag your dinner. While the campground does offer vaulted toilets, campers have to bring in water. Having a reliable water storage system and possibly a filtration system will be essential to campers.

Godman Campground: This tent-only campground located in the Umatilla National Forest is the epitome of a free vacation that is completely worthwhile. Those who score a spot at Godman can enjoy days of hiking, fishing, hunting, and biking. It has grown in popularity over the years, especially during the summer months, and it is easy to see why!

Rocky Lake Campground: Nestled near the city of Colville, Rocky Lake Campground is small, with seven dirt spaces given out on a first-come, first-served basis. With small sites, tents are allowed, but trailers, even small ones, are often too tight a squeeze. Rocky Lake is also small, but that seems to be part of this camping gem's charm. It's quaint, small, and unassuming, and best of all, free!
Pick the Perfect Campground
States like Washington have so many campgrounds to choose from, and it seems a daunting task to settle on one of them. When choosing a campground, consider the following:
What are your wishes? Do you want to be near water, or somewhere will lots of activities? Are you looking for a space that costs nothing but offers peace and tranquility? Know what you are looking for and go from there.
Select campground based on general location. How far are you willing to travel? Decide on a general region in Washington State and look at campgrounds in that area.
Pick a price point. Depending on the length of your planned stay, cost might be a factor in choosing a campground. Factor in the per-night fee at your preferred campground and multiply that by the length of your stay. Vacations that break the bank are never much fun.
If you are camping with kids, dogs, or large groups of people, some campgrounds will be more accommodating than others. Know which grounds meet your family's or group's needs.
If your idea of camping is staying at a Holiday Inn, don't choose a rustic site without modern toilets or running water. Camping newbies should look for a campground that allows for a gentle transition into the outdoor life.
Get Outside and Try Something New
The great thing about camping is it offers something for new campers and experienced campers alike. Everyone can give it a whirl. The key to successful camping is knowing what you are getting into. Choose a campground appropriate to your level of experience. Be sure to take a hard look at camping checklists and make sure you have all you need to pull off an amazing camping excursion in the stunning state of Washington.