A list of the best Air Force bases for families can be helpful to family-oriented service members that know the importance of landing their loved ones in a solid place. While many Air Force families have no choice where they land, those who get stationed at these top-ranked bases consider themselves fortunate.
Best Air Force Bases for Families
Because of their occupation, active military personnel moves around often and quickly learn that not all stationed assignments are the same. Landing at a tight-knit, family-friendly base can make all the difference in life quality. When it comes to housing costs, community values, and available amenities, some bases are certainly desirable than others. Of the fifty-nine possible Air Force bases in the United States, these bases reign supreme, checking off all possible family-friendly boxes. It is easy to see why they are considered some of the best Air Force bases for families in the nation.
Scott Air Force Base - Illinois
Scott Air Force Base, located in St. Clair County, Illinois, is a top spot for growing military families and single folk alike. Nestled just outside of busy and vibrant St. Louis, Scott provides military families with the freedom to live in the peaceful countryside or the bustling cityscape, all while centering their work at the famous base.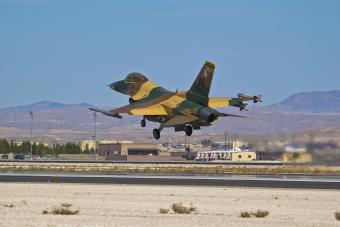 Becoming a military family can be an adjustment for families. Still, Scott makes the transition easier with its affordable housing options, low crime rate, top-notch hospital, and on-base amenities like a mini-mall and shopping center. Being close to a major city provides families with additional activities to entertain those of all ages during non-working hours.
Joint Base Lewis-McChord - Washington State
Military families stationed at Joint Base Lewis-McChord (JBLM) are lucky to call this place home. Located in scenic Tacoma, Washington, Lewis-McChord has everything a family might need to feel at home. Those living on base have many housing options to choose from, ranging from small duplexes to lakeside, four-bedroom abodes. The medical care facilities here are superb, and the base offers excellent childcare options for working families. JBLM and the surrounding community places great importance on family life and community. Families can take advantage of events like family trivia nights at the base or check out numerous museums in the Tacoma area. This base is an area that encompasses the live, work, play mentality and helps military families achieve a work-life balance.
Wright-Patterson Air Force Base - Ohio
Like Scott Air Force Base, Wright Patterson Air Force Base sits in the welcoming Midwest. The base, located near Dayton, Ohio, has everything that growing families need to make their living experience comfortable and enjoyable. It boasts shopping centers, short commute times to large, surrounding cities, a massive 300-bed hospital, and a friendly and welcoming community atmosphere.
One of the many pros to Air Force employment is affordable living costs. The basic allowance for housing to an Airman with dependents hovers around $2,000 a month. Considering the average price of a two-bedroom apartment in Dayton is about $700 a month, it is easy to see how military families can comfortably live and work here.
Langley Air Force Base - Virginia
Langley AFB is near Hampton, Virginia. Families love living here for many reasons, including affordable housing. The median home value here is around $150,000 and has historical roots. The base is one of the oldest bases in the nation, and a portion of the homes on base are historic homes. Life here is charming, but it can be dicey at times. The base sits only a few feet above sea level, subjecting it to occasional flooding.
MacDill Air Force Base - Florida
MacDill Air Force Base sits just four miles outside of Tampa, and for families looking to live near the sun and surf, it seems ideal. The cost of living here hovers slightly below the national average, and the schools are well ranked. Being close to Tampa, there is always something for kids to do. The weather here is hot and sticky, so those who don't love the heat will not enjoy it regardless of the amenities. Thankfully, the Air Force Base has a private beach available to those in service when the weather becomes unbearably hot!
Seymour Johnson Air Force Base - North Carolina
Life at Seymour Johnson Air Force Base in Goldsboro, North Carolina, is hard to beat. The climate is superb and military families making camp at the base rave about their kids' educational opportunities. There are dozens of excellent schools to choose from in the Goldsboro district, including two high schools rating 9/10 on the GreatSchools index. When the kids are not in school, families can pack up the car and be in Raleigh, Durham, Wilmington, or Myrtle Beach within just a few hours.
Naval Air Station Joint Reserve Base New Orleans - Louisiana
The southern station is where families hope to be if they value vibrance, diversity, and culture. The New Orleans area is a hub of such! With forty nearby museums to choose from, families will never tire of learning and exploring. Here, the commissary is one of the very best and most extensive in the country. Shopping here means no sales taxes for military families! There are tons of perks to being near NOLA, but it isn't for every family. The general crime rate in New Orleans is high, at 66 per 1,000, and Louisiana schools generally rank low compared to other areas in the nation.
Mountain Home Air Force Base - Idaho
Mountain Home Air Force Base, located in Idaho, is an excellent place for families to reside. The base is considered a community within a community by many of its adoring members. Some 1,300 families call this place home and speak highly of its strong sense of community. Danielle Kruse, a military wife, living on the base, highlighted this sentiment, saying she appreciates how all families living here go through similar experiences and support one another in deployment times. She and other mothers and fathers emphasize the value of comfort and safety on base. Kids can freely run and play without parents worrying much. The base houses family-friendly amenities like bowling, swimming, movies, parks, and other family events to create a community sense.
Joint Base San Antonio Lackland - Texas
Military families working and living in San Antonio find that they have very little to complain about, other than the heat! Joint Base San Antonio Lackland, a sought-after base by families, was ranked as the eighth-best place in the country to raise children. When it comes to available healthcare, the medical center is one of the best in the military. Families also find the base to be loaded with conveniences such as shopping centers and malls.
Housing costs near Lackland are some of the most affordable in the county, and those choosing to work on the base and live nearby will find endless options to put roots down in. San Antonio is rapidly growing into the new Austin, so families will never be short on cultural activities involving outdoor recreation, music, and food.
Joint Base Elmendorf-Richardson - Alaska
Living in the north's extreme elements isn't for every family, but for those who value the beauty of rugged terrain, Joint Base Elmendorf-Richardson is perfect. Some 20,000 military families call this rustic and scenic environment home. Elmendorf-Richardson sits near Anchorage, Alaska, and draws in military families from all over the country because of its beauty and excellent medical and dental care, employment assistance, and educational programs.
While the costs of living in Alaska can be relatively high, Air Force families find it reasonable, much in part to the commissary and shopping found on the base. Furthermore, the base offers unique amenities like boat rentals, golf, and skiing for families looking to get outdoors and spend time in this corner of the world.
It Is All About Life-Work Balance
No matter which Air Force Base tickles your fancy, they all have a few essential commonalities that families tend to put at the top of their checklists. These top-rated bases provide low-cost living to military personnel, excellent amenities on or near the base, and a strong sense of community. Being a military family isn't easy and often comes with plenty of hardships, but the work that these great people do is crucial. Living at or near a base that focuses on family and work-life balance helps make their occupation choice worthwhile.