Tips for Stay-at-Home Moms Going Back to Work: What to Do (and Avoid)
Deciding to leave the world of stay-at-home parenting behind and re-enter the workforce is a lofty decision, and it requires a boatload of thought and consideration. Going back to work can be an anxious move for many mothers, but it can also be exciting and full of possibilities. These tips will help ease the transition and make for a smoother re-entrance.
Making the Decision to Go Back to Work
Maybe you are pretty sure that you want to go the route of re-entering the workforce, but your concerns and reservations still have you on the fence. That's okay. These kinds of decisions shouldn't be taken lightly. If you are mulling the move over, ponder these things and see if that helps you go one way or the other.
Do I feel confident that I can devote myself to both the home and work realm fully?
Am I returning to work for the right reasons (to support your family or feel fulfilled)?
Do I have the support system to make this shift happen?
Is this where I want to be spending eight-plus hours a day?
Is this work environment flexible and accommodating enough to meet the needs of my family?
Talk these questions and answers over with your partner or a trusted friend. If it helps, make a list of the pros and cons of returning to work and see which option benefits yourself and your family better.
Tips for a Former Stay-at-Home-Mom Back to Work
When a stay-at-home mom goes back to work, tons of emotions get put into play. There is excitement, anxiety, fear, joy, sadness, relief, and everything in between surging through her body. Emotions are all over the place, as are new schedules, children's attitudes, and shifts in familial responsibility. To slay this new stage of life, pay attention to tips that will make moving back to the work scene as flawless as you are!
Look the Part
Remember when you were ten years old, and your mom or dad took you back-to-school clothes shopping? You got new shoes, new clothes, a new backpack, a fresh haircut, and you were ready for your first day. That is EXACTLY how you should approach coming back to work. You have been home in t-shirts and yoga pants for far too long, slinging diaper bags full of McDonald's toys and Target receipts. It's time to revamp your style and dress the part for this new role of yours.
Get some new work clothes, buy a beautiful bag or stylish briefcase that will be perfect for the office, and spend a few hours in the salon. You are worth it.
Be On Point With Childcare
If you have been home with the kids for some time, ensuring childcare coverage was likely not ever anything that you had to concern yourself with. You were the childcare! If you are returning to work outside of the home, you need to make sure that consistent childcare is lined up. When shoring up childcare, remember to:
Find a daycare center, family member, or nanny who you trust and who falls in line with your child-rearing beliefs.
Look at the amount of money you will spend on childcare and the amount of money you will be making from your new job. Can you afford the childcare that you desire?
Be sure that your childcare provider knows what time to begin watching the kids and what time they can expect you back. Discuss possible travel and extra hours before making final childcare decisions.
Have a backup option if your babysitter must cancel or leave the job.
Review the Change With Your Family
Returning to work is a significant change for you, but also a significant change for your family. The kids will probably have their own sets of questions and anxieties regarding your new chapter. Make time well before heading back to work to discuss how your working changes how your family runs. Allow kids to share ideas and thoughts about your new job and reassure them that while this change feels worrisome, it is exciting too.
Write Down New Schedules
When you stay home with the kids, you are their constant schedule reminder and the family secretary. Even when schedules are written down, moms are masters at telling everyone what they need to be doing and where they need to be going. With you out of the house, everyone will have to learn and review their own schedules. Write all schedules down for family members. Consider making several daily schedules for different parts of the day. You might need:
A morning routine schedule
An after school schedule
A sports schedule- checklist as to what they need for after-school activities and when to be ready for activities
A bedtime routine and checklist - make sure your family is prepared to hit the ground running tomorrow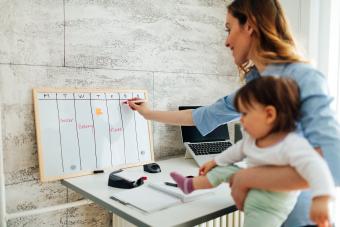 Make Household Expectations Crystal Clear
Stay-at-home moms do the work of ten thousand people. Often the childcare, laundry, household chores, grocery shopping, and meal making falls within their domestic domain. A return to work can shift many of these duties onto the shoulders of others. Before heading back to the office, discuss these shifts in household expectations with your partner. Will you divide and conquer? Are you both working demanding jobs and long hours now, and will you require outside help to make your ship run more smoothly?
Separate Home From Work
This is a tough one, but very essential. Leaving home issues at the door of your office and work issues in the driveway of your house are essential. Both your new career and your family deserve your full attention, so be aware of separating the two. When you are at work, try to put home woes out of your mind. When you are at home, everything work-related can wait until tomorrow. Your family needs your physical and emotional presence after the business day ends.
Strive for Balance
Balance is a challenge for most parents who feel pulled in a million different directions all the time. When you head back to work, keep in mind that your new job is exactly that. You still have a life outside of your profession. Learn ways to stay balanced between these two realms.
Accept That at Some Point, This Will Feel Like a Hot Mess
After a few busy but exciting weeks back at work, the inevitable will occur: the wheels will come right off, the kids will be in full meltdown modes, you'll start to feel exhausted and wonder if returning to work was truly the best option for your family. Know that this is normal. Every mom who decides to work again goes through a "hot mess" phase. Remind yourself that work or no work, families have ups and downs, good days and bad days. Take deep breaths and focus on what you can control. You'll move through this hot mess phase and get back on track in no time!
Learn to Ask for Help
Asking for help can be uncomfortable for adults who want to do everything themselves. When returning to work, be prepared to call upon your crew for assistance. There may be times that family or friends can pick your kids up from school, drive to soccer practice or stay with your children if you have to be away on business. Seek these people out before you return to work. Discuss times that you might need their help and feel comfortable in the fact that they love and support you and your family and are happy to lend a hand whenever.
Heading Back to the Office in a Post-COVID World
The worldwide pandemic changed the landscape of the working world in measures no one could fathom. Tons of working parents suddenly found themselves doing business from home. As normalcy is restored to life, moms and dads everywhere are stepping back into the office. Returning to work in a post-pandemic phase of life brings about a whole new bag of concerns for working mothers.
Prepare to Feel All Sorts of Feelings
As if you could pile on any more feelings and emotions regarding the return to work...here comes covid and her gaggle of worries. A return to the workplace after staying safe at home can bring about tons of thoughts and feelings. You might be apprehensive because life looks different now. You could feel nervous and scared about contracting the virus or bringing it home to your family. The best thing to do is to acknowledge your worries and fears. Talk about them with someone you trust and ask your questions to your boss. Knowing how the workplace is handling things in the post-covid work environment might put some anxieties at bay.
Things Will Likely Like Very Different
You may find that the workplace is not as you left it. Many work environments will look much different from what you recall. Be open to any changes that have been made, and if you find that there are post-COVID changes that you are seriously struggling with at work, discuss them with your superiors.
Choices Can Be Undone
Some moms decide that returning to work is the best thing for them and their families, only to discover that the change isn't all that they hoped it would be. If you have taken on a job, given it some time, and found that the fit simply isn't right for you and your kin, these choices can always be undone. Take time to assess your new job frequently and if ever you feel that home is where you truly belong, remember that being a stay-at-home mom is an incredibly important job too.